Documentos
---
Manual del usuario
Existen diversas aproximaciones para modelar el crecimiento de bosques (Munro 1974; Weiskittel et al. 2011; Salas et al. 2016). Al ser Pellín un simulador a nivel individual es necesario contar con información a nivel de árbol en una unidad de superficie (e.g., parcela de muestreo), ademas de conocer la ubicación geografica de la lista de árboles y el horizonte de simulación. Tal como se resume en el siguiente diagrama.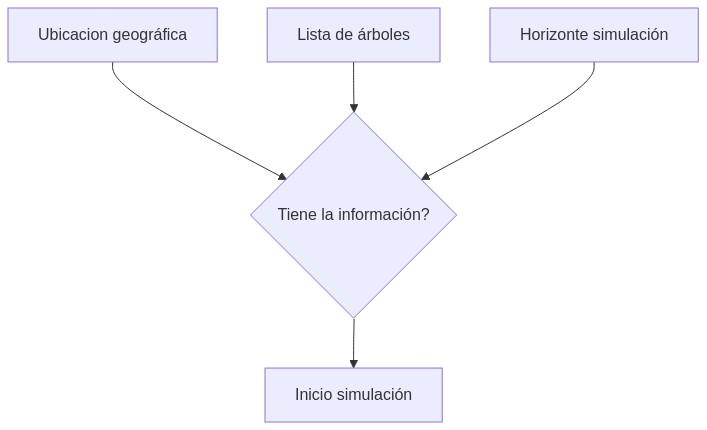 En el manual del usuario se detalla paso a paso como usar el simulador.
Descripción del modelo
En este informe se entregan antecedentes respecto a los componentes que integran al modelo de crecimiento implementado en Pellín.
Otros relacionados
Una caractertística importante para el equipo desarrollador ha sido el trabajo científico detras del modelo de crecimiento. Para esto, los autores han sometido a revision de pares muchas de las ideas que sustentan a Pellín. Algunos trabajos donde se pueden revisar mayores detalles científicos en los cuales se basa el modelo son: Salas-Eljatib et al. (2018), Salas-Eljatib and Weiskittel (2018), Salas-Eljatib (2020), Salas-Eljatib and Weiskittel (2020), Salas-Eljatib (2021b), Salas-Eljatib (2021a), Salas-Eljatib et al. (2021).
Bibliografía
Munro, D. D. 1974.
"Forest Growth Models–a Prognosis."
In
Growth Models for Tree and Stand Simulation. Proceedings from IUFRO Working Party, Research Notes No. 30 from the Royal College of Forestry
, edited by J. Fries, 7–21. Stockholm, Sweden.
Salas, C., Timothy G. Gregoire, D. J. Craven, and H. Gilabert. 2016.
"

Modelación del crecimiento de bosques: estado del arte

."
Bosque
37 (1): 3–12.
Salas-Eljatib, C. 2020.
"Height Growth–Rate at a Given Height: A Mathematical Perspective for Forest Productivity."
Ecological Modelling
431: 109198.
———. 2021a.
"

A new algorithm for reconstructing tree height growth with stem analysis data

."
Methods in Ecology and Evolution
12 (10): 2008–16.
———. 2021b.
"An approach to quantify climate-productivity relationships: an example from a widespread

N

othofagus forest."
Ecological Applications
31 (4): eap.2285.
Salas-Eljatib, C., A. Fuentes-Ramírez, P. J. Donoso, C. Matus, and D. P. Soto. 2018. "Crecimiento de bosques secundarios y adultos de Nothofagus en el centro-sur de Chile." In Silvicultura En Bosques Nativos. Experiencias En Silvicultura y Restauración En Chile, Argentina y El Oeste de Estados Unidos, edited by P. Donoso, A. Promis, and D. Soto, 73–92. Valdivia, Chile: Oregon State University.
Salas-Eljatib, C., L. Mehtätalo, T. G. Gregoire, D. P. Soto, and R. Vargas-Gaete. 2021.
"

Growth equations in forest research: mathematical basis and model similarities

."
Current Forestry Reports
7: 230–44.
Salas-Eljatib, C., and A. R. Weiskittel. 2018.
"Evaluation of Modeling Strategies for Assessing Self-Thinning Behavior and Carrying Capacity."
Ecology and Evolution
8 (22): 10768–79.
———. 2020.
"On Studying the Patterns of Individual-Based Tree Mortality in Natural Forests: A Modelling Analysis."
For. Ecol. Manage.
475: 118369.
Weiskittel, A. R., D. W. Hann, J. A. Kershaw Jr., and J. K. Vanclay. 2011.
Forest

G

rowth and

Y

ield

M

odeling
. Chichester, UK: John Wiley & Sons.